Yes Finally Inducted Into the Rock and Roll Hall of Fame
Notes From the Editor Mike Tiano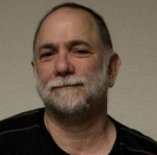 My own take on Yes' induction into the Rock and Roll Hall of Fame that occurred on Friday, April 7 is that overall it was amazing.
It was exhilarating to have Geddy Lee and Alex Lifeson of Rush paying tribute to a major source of their musical inspiration (as well as interacting with them), having Yes finally get their due after what was too long, and seeing warring members together for the first time in years standing on the same stage--even if it was apparent that this may not be the reconciliation that fans had been hoping for.
However while there were minor glitches that might be easily excused there were some huge, glaring oversights that could easily have been rectified, and I'm sure that I am not alone in addressing these items. This isn't to nit pick just for the sake of it, but to call out the individuals who appeared to be largely forgotten during the proceedings.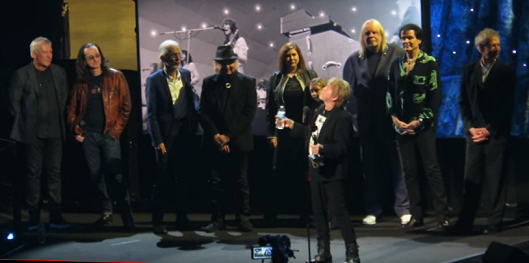 Missed opportunities to remember Chris Squire. After the induction Trevor Rabin posted the following on Facebook: "Rick had declined participating unless there was a Chris Squire acknowledgment. So it was fantastic that Scottie Squire and Xilan were there at our table." Unfortunately that recognition didn't go much beyond the honorees' table. During the speeches Chris was mentioned, but it almost seemed as if Geddy and Alex said more about him in comparison to what little was actually said by the inductees. In addition I didn't catch anyone on stage mentioning Chris' widow Scotty, who should have been introduced; I wouldn't be surprised if the less Yes-knowledgeable members in the audience thought she was the wife of one of the inductees on stage.
If it was Scotty's decision not to speak, that's ok--but her presence representing Chris wasn't properly acknowledged (nor was their daughter Xilan). It seemed to me that they all got short shrift here, and that's including Chris. It would have been meant a lot to fans for Scotty to say a few words on his behalf, and for those still saddened by Chris having missed the chance to personally receive this honor. That would have made for a great emotional counterpoint to Rick Wakeman's shtick, where having both would have packed a whopper of a one-two punch, and would have elevated Yes' induction to an even greater height.
See end of this article for an update on Scotty.

No speech from Bill Bruford. I'm sure that many fans shared my disappointment that Bill didn't speak. Maybe he didn't want to, and the fact that other Yes members made comments about him supports that notion: Trevor made a joke that Bill reminded him to make sure his fly was up, and Steve Howe stated that when he long ago had asked Bill to describe Yes' music, Bill retorted that some of it was fast, and some of it was slow--considering Bill's dry humor that was an appropriate response. With Bill's retirement from performing (and from the public stage) to concentrate on his academic endeavors fans miss his acerbic wit and unflinching point of view, which was on regular display on his website until he stopped all public interaction. Whatever his reason for not speaking at the HOF it nevertheless meant a lot to fans that he was there, and considering the attention he was getting he was probably enjoying himself. If that meant doing so while maintaining his privacy then Bill has earned the respect for his decision, regardless of the reason.

Forgotten key players--and Tony Kaye. It's unfortunate that certain ex-members and personnel didn't get a mention, although there were some who did. Jon cited Peter Banks in remarking about the band's formation. When Steve mentioned Geoff Downes, Jon Davison, and Billy Sherwood it appeared the intent was to get in a little bit of a dig at ARW about the future of Yes as a whole, and not for those current Yes members' contributions to Yes overall. Folks who deserved to have been recognized even briefly include Roger Dean, producer Eddie Offord (Yes' "sixth member" if there ever was one), Patrick Moraz, Trevor Horn, et. al, But I thought it was practically disgraceful that no one said anything about Tony Kaye, who WAS inducted and apparently missed the ceremony due to illness. He too should have been basking in the glory of the celebration. In light of his absence the least those present could have done was to tell him congrats and to get well soon. I hope that whatever his malady that it is minor and that no one saying anything about Tony's absence doesn't indicate a cause for concern.
See end of this article for an update on Tony.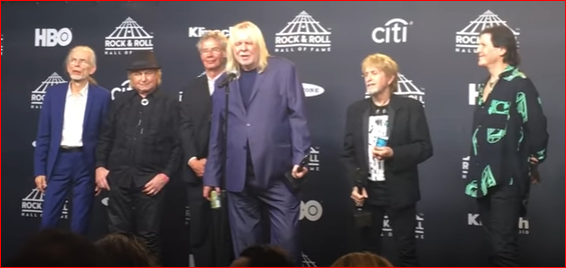 The speeches given by the inductees were a mixed bag. Jon seemed a bit disoriented, and I've seen comments from fans writing him off as just Jon being spacy, as if it was to be expected, for better or worse. But maybe the truth might be that he was just overwhelmed, which would be understandable. On one hand he was probably facing unending demands from the HOF, press, and adoring fans. But on the other hand in all likelihood he was dealing with emotions about having to face those who ejected him from his own band. Regardless, his positivity shone through.
Trevor Rabin and Alan White made comments that were short, primarily thanking their families and friends, with the latter making a point of acknowledging the fans (Trevor also stressed that in his Facebook comments on April 9).
Steve was the only member to read a carefully crafted message from a page; like Alan he thanked the fans, but in his the attempt to remind everyone that "we are Yes" (IOW the current lineup) his intent to kill any hopes for another Union seemed a bit too obvious, even if he felt it achieved his goal.
Rick ended up being the last to speak, saying little about Yes and instead launching into a series of bawdy jokes. The nature of his humor grated on some fans and a couple of reviewers, but I believe it was an attempt to show that Yes isn't as stoic and humorless as some may believe, including those HOF board members who didn't want Yes recognized, period. There is a valid argument that considering a child (Xilan) was on stage Rick should have toned down the lewdness of his jokes. But bearing in mind who her dad is the blue humor was probably less of an issue than it would be coming from your average Joe, and there is the possibility that Rick might have cleared it with Scotty beforehand.
But regardless of one's disdain for the nature of Rick's comments it cannot be denied that he knows how to play a room, and took advantage of addressing an enormous captive audience of his peers. Rick's delivery and comic timing are impeccable, making what appears to be a mundane comment that is rapidly followed by an unexpected payoff, and at Barclay's it worked: the audience roared at each joke and the standing ovation at his closing was probably as much for him as it was for the band at large (maybe more so). I think it safe to assume that given the median age of many of the inductees and attendees they were Rick's target audience. During the conclusion of Yes' performance of "Owner of a Lonely Heart" Trevor and Rick made their way through the audience (on guitar and keytar, respectively) and at one point they both sat down as they played. It was then that fellow inductee Joan Baez quickly made her way to Rick to give him a kiss on the cheek. It's not a stretch to believe the reason for Joan's action was because she thoroughly enjoyed Rick's speech.
In addition Rick's "act" is the major reason for Yes getting mentioned in the news articles about the HOF the following morning. If not for that any mention of Yes probably would have been minor and buried, and instead they got prominent coverage, including headlines that listed them and not some of the other inductees.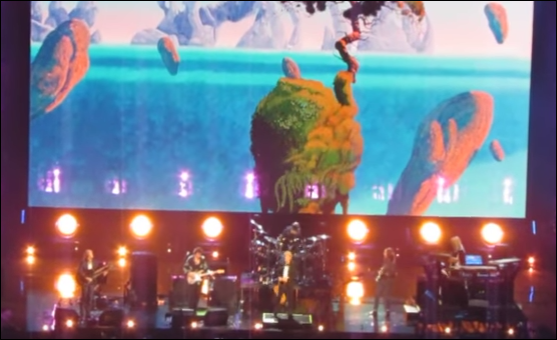 In the end Yes shined with their performances. The two song choices may have been obvious but the band was energetic, and for fans it was the realization of what they have been waiting for for years: seeing various Yes members together on the same stage.

While in normal circumstances Billy Sherwood--who Chris pegged as his choice to take his place in the band--should have joined in on bass for "Roundabout" the event/spectacle aspect of the proceedings--and Geddy Lee's presence--made it a no-brainer that it would be more exciting for Geddy to play the parts created by his hero Chris. (Billy probably understood that, and enjoyed Geddy's performance). To Geddy's credit he didn't ape Chris to the extent of singing Chris' harmonies and being part of the front line--even after a couple of years that may have been too soon, and Geddy is smart enough not to be that crass. At the end of the song Steve, to his credit, shouted, "Thank you, Geddy!" as the Rush member exited the stage. With Rush having announced their retirement from large scale touring one can hope that this brief collaboration might open the door to new projects between the members of the two bands.

For "Owner of a Lonely Heart" Steve switched to bass, appropriately a Rickenbacker resembling Chris' signature instrument. The performance was a bit rough around the edges but still engaging, including the aforementioned highlight/hijinks of Trevor and Rick venturing into the audience. This song is where I especially missed Tony, having been in the lineup for 90125.

The finale of Neil Young's "Rockin' in the Free World"--an appropriate choice in this political climate--featured Trevor as the only Yes member to join other inductees, though Alex and Geddy were also present. It was great to see Trevor performing a solo on the song, and extremely gratifying that he represented Yes at the show's conclusion.

All in all it should be apparent to even the most jaded HOF member that Yes ARE rock and roll--and as we Yes fans know, a whole lot more. I hope that even some of those HOF folks finally had their eyes opened to that fact by the Rush dudes' heartfelt comments, Rick's bringing the speech segment to a rousing climax (pun not--or maybe not--intended), and the undisputed energy of the band's performances.

Rick said on Twitter yesterday that another Union will never happen. While fans can still hope otherwise, for them Yes' induction into the Rock and Roll Hall of Fame was an appropriate celebration of all the members and alumni, whether they were inducted or not.

MOT

Updates since article was posted

Update: Tony Kaye, April 10

Monday morning I asked Tony Kaye's wife Daniela Torchia why Tony hadn't attended the festivities at Barclay's. She replied that "Tony is laying low, and health prevents him from traveling at the moment. Local fun is safe, close to home, and sweet."

On Saturday, April 8, she told Tony that they were going to have a wine toast with a few friends "to honor his gentlemanly spirit and musical success. It was a special occasion for which he wanted to be with friends filled with happy spirits, great big smiles, and warm hugs. He was very surprised that the wine toast was actually a ruse for a lovely congratulations on being inducted into the RRHOF."

I advised Daniela that I would add this to my article to let his fans know about her sweet, thoughtful gesture—and on behalf of his fans everywhere to please congratulate Tony on being inducted for his great work with Yes, and to wish Tony the all best. Pictures from Tony's party can be found

on his Facebook page here.

Update: Scotty Squire, April 12

Scotty Squire posted on fan forum Yesfans that she was supposed to speak at the induction ceremony and had some prepared comments. She explained what actually happened, summarized below along with my own observations. (Scotty's post with her explanation can be found

here.)

During Rick's speech the time allotted for Yes as a whole had run out (Scotty states a monitor kept flashing "wrap it up"). This is evident in the video from the event. In the first screen capture below Rick has just begun his speech, and there is a digital countdown clock in front of the band that appears to read 1:54 (note that what we're seeing is a projection onto a large screen in the hall, hence the clock being cut off at the bottom). In the second capture Rick is in the middle of his prostate joke and the clock is now at zero.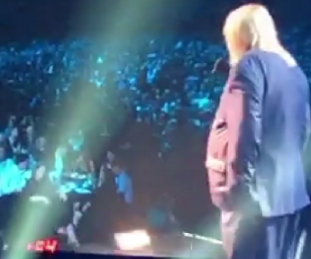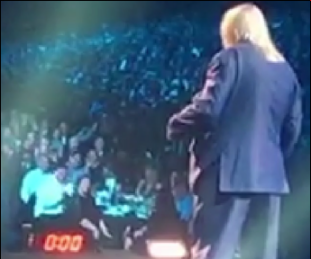 Scotty says that at the end of his speech Rick was supposed to introduce her. Reviewing the videos on YouTube Rick appears to say a few words after his thank you, but it is inaudible; it's possible that he might have introduced her, or tried to: as he speaks the mic is lowered, and Rick's body language is like, "What?". He handed the award to Scotty anyway, but with the mic gone the band members start to file offstage (as seen here).
Scotty doesn't fault Rick for taking too much time; Jon did ramble on a bit and Steve's speech was also lengthy (though limiting speeches accommodates the impending broadcast on HBO more than serves the inductees, and others have pointed out that Journey had longer speeches--perhaps the crew cut Yes short to accommodate that). However Rick does have a lot of experience performing in front of TV audiences. Seeing that the countdown clock was running out he should have ended sooner, giving Scotty a chance to say a few words. Rick might have been caught up in the moment and didn't realize that with Yes' allotted time spent he was inadvertently preventing Scotty from speaking.
In the final analysis Scotty was a victim of circumstances. The fact that time had run out may not have mattered; if Rick had been able to introduce her before the mic disappeared (or been audible if he did) then she might have had her chance.
The best slot for Scotty to have given her speech was first. Rick already planned on not repeating what was already said, opting instead to tell a few jokes, and having Scotty follow him was probably a bad idea to begin with. Perhaps the Hall of Fame can be persuaded to reach out to Scotty's to post her speech. It wouldn't be the same as hearing from Scotty during the ceremony, but it would be a great make-up gesture for Yes' fans--and the memory of Chris.
As Dian Lau wrote in her wonderfully detailed Facebook remembrance of the event, the general public who purchased tickets to attend the Hall of Fame induction were forbidden from taking any photos or video. During rehearsals in a empty hall they would have been sitting ducks if any of them attempted to sneak in any pictures, and as Dian noted cell phones were absent during rehearsals.
During the actual induction it was a different story, as seen from many videos to be found on YouTube. Shot from the angle of where each of the individuals were sitting those videos may vary wildly in picture and audio quality but they are documents of the actual event, raw and unedited. It's fortunate that folks weren't policed during the ceremony, allowing us to see what was edited out for the HBO broadcast from April 29.
What was missing on HBO's showing was somewhat made up by the fact that what was presented was professionally shot and edited. We got to see great closeups and hear stellar audio from numerous angles. I caught items that I seemed to miss in the fans' videos, like Geddy singing along (sans mic) during the "da da da da, da, da DA" portion at the end of "Roundabout".
But notice I said somewhat. I didn't do a comparison for the other artists but it seemed each band member in Journey and Pearl Jam got to say something (as did ELO, but as there were only two of their members on stage that was to be expected), while the same can't be said for Yes. Also the songs from the other inductees seemed to be complete--we were lucky to get "Roundabout" untouched, but the same can't be said for "Owner of a Lonely Heart".
Whether you were able to watch it on HBO or not, here is a laundry list of the big items that were edited out for the broadcast, where all in all it appeared that Yes didn't fare as well as the other inductees.
Both of the speeches from Alex and Geddy were shortened. Alex's opening comments about "The Yes Album" were gone (including how he "may have smoked a cigarette, or something"). Geddy appeared to have bigger pieces of his speech removed, including a portion of his story about how seeing Yes at Maple Leaf Gardens changed his life. What was telling came at the end of Geddy's speech, where his comment that "it is our great honor, and great privilege, to right a terrible wrong" was edited with those last few words removed, indicating that this was something that the HOF board was uncomfortable about admitting.

Jon's speech seemed to benefit from editing, as he came across as less rambling, and more focused--that is until he seemed to think Bill was still at the table and not onstage behind him. In watching the HBO broadcast it was gratifying that Jon made remarks about both Chris and Peter more than once (especially their both being there in spirit), though his forgetting Tony was even more apparent (and again, for me, unforgivable from the band at large). Compared to the other bands inducted Yes fell down when it came to thanking former members and alumni, let alone entirely forgetting Tony, the one person who was inducted but not mentioned at all.

At the actual ceremony Trevor and Alan each respectively followed Jon and gave short speeches, but on HBO they were nowhere to be found. Considering Trevor revitalized Yes in the 1980s and Alan saved Yes after Bill's sudden departure (and, by the way, is a part of Beatles history) it was disconcerting neither got a chance to speak, even though the comments from each of them combined were probably shorter that those from each of the other Yes members.

Steve, like Jon, seemed to benefit from having his speech edited, though with mixed results: his comments about his version of Yes forging ahead were (thankfully) eliminated, but what was lost along with it was his calling out Billy, Geoff, and Jon Davison. (Ironically Geoff and Billy could be seen at the table during other inductions, most prominently during Dhani Harrison's comments on ELO.)

As popular as Rick was with the audience he may have been the biggest victim of editing, with a large portion cut, including his first two and a half jokes. The two were (1) about losing his virginity not far from Barclay's and (2) his wife being in a coma; the half was the part about his dad being an Elvis impersonator in 1947. Even with Rick arguably the biggest hit of all the inductees (regardless of one's approval or disdain at the nature of his jokes) even he was not immune to having his speech edited down.

As already stated "Roundabout" was complete, thankfully. The broadcast gave us great shots of the members in performance, which was also the case for "Owner of a Lonely Heart". But the second song had quite a bit missing: the performance on HBO began as it was recorded on 90125 without the "Make it Easy" intro (which was cut for the broadcast), and if anyone hadn't seen the YouTube videos or heard otherwise they wouldn't have known that Rick and Trevor went out into the audience--it's as if they never left the stage, which would lead one to wonder why Rick even bothered with the Keytar for the last few seconds. Later when as I watched guitarist Mike MacReady do the same thing I had to wonder if the edge was given to Pearl Jam, who may have been perceived as the main attraction.

The finale seemed to be only a couple of minutes long, and among the missing portions was Trevor's guitar solo during the song's end.
It's obvious that the proceedings needed to be trimmed to fill the three hour slot, and others were affected (e.g., one of Joan Baez's songs was cut). While it seems that Yes might not fared as well as the others--at least that was the perception--at least we have the YouTube videos (including the ones below) to see their induction complete and with no time constraints. We're lucky to have them.
---
While it's great Yes got inducted let's not forget the RnR HOF is not off the hook yet in being slow to recognize prominent progressive rock artists, as I called out in my report late last year, which can be found here.
---
Videos from the Rock and Roll Hall of Fame 2017 Induction Ceremony